5 Tips For Healthy Eating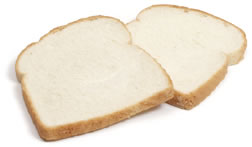 One of the best things you can do to improve your health and maintain your weight is to learn some simple healthy eating habits. When you get into healthy eating habits, there's no guesswork about what to put into your body.
Like any other habit, healthy eating can become a regular part of our lives once we learn the right things to eat. There are some very simple steps you can take to ensure that your diet is a healthy one.
1. Avoid Processed Foods
Processed foods like fast food, frozen meals and "meals in a box" are overly processed to enhance shelf life and to improve taste. They contain more calories and more fat than if you prepared the same meal from scratch.
They also contain additives and preservatives that our bodies don't need. Remember to shop the perimeter of the grocery store to avoid most of the processed foods.
Cooking fresh foods from scratch does take a little more time and planning, but it makes it much easier to eat healthy and manage your weight.
2. Choose Your Fats Wisely
Healthy eating does mean eating fat. However, it's important to choose healthy fats, like those found in fish, flaxseed oil and olive oil, and avoid saturated fats like butter and lard. Fats are a necessary part of our diet, and they can help us feel full, so that we avoid overeating. Be sure to trim all the visible fat from your meats, too.
3. Ditch The White Flour and Sugar
One of the easiest ways to ensure healthy eating is to remove white flour and sugar from your diet. Neither contains any nutrients, and both help you to gain weight. When you want bread or pasta, opt for 100 percent whole grain varieties.
4. Avoid Sugar Filled Sodas
Healthy eating involves what you drink, too. Sodas are filled either with sugar or with artificial sweeteners. Many people who drink lots of soda fail to get enough water. When you throw out the sodas, you make it easier to get all the water you need.
5. Eat A Healty Balanced Diet
Healthy eating means eating a balanced diet. We need lean protein, fruits, vegetables, fats and whole grains every day.
When your diet is varied and colorful, you're helping to ensure that you get all the nutrients your body needs. You're also helping to ensure that you don't get bored with your diet. Eating a variety of foods makes it easier to make healthy eating a lifelong habit.
Healthy eating isn't difficult and it isn't boring. But, it does take some planning and it does take commitment. Unhealthy foods are everywhere, and they're often much more convenient for people with a busy schedule.
But, with some dedication and planning, you can make over your eating habits to ensure that you're giving your body exactly what it needs to perform at its peak and to stay healthy. Once you've adapted to healthy eating, you'll never want to go back to an unhealthy diet.