5 High Protein Low Carb Diets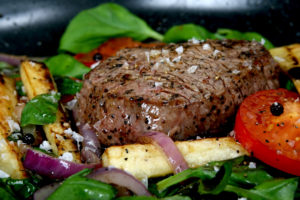 Low carb diets are extremely popular, and have helped many people shed pounds, and keep them off. Though many critics decry low carb diets as unhealthy, they can actually be quite healthy as a long-term alternative, as long as the carb intake does not go too low.
A good low carb diet will, in the long run, be a diet that focuses on eating good carbs and avoiding the unhealthy ones.
The Atkins Plan is the most popular low carbohydrate diet. It strives to control blood sugar, and therefore, insulin production.
By getting rid of simple carbohydrates and eating more protein, you are more easily able to burn fat. This low carb diet is very rigid and inflexible at first, when carbohydrates are limited to 10 grams a day.
The South Beach Diet works a lot like the Atkins Diet, but is a bit less restrictive than Atkins. In this diet, you will restrict carbohydrates at first. However, in the long run, you learn to replace bad carbohydrates and bad fats with good ones.
Good carbohydrates are those found in vegetables, fruits and whole grains, while the ones you want to avoid are those that come from white flour, sugar and processed foods. This is a low carb diet that also emphasizes watching your saturated fat levels, and encourages eating healthier fats.
With the Zone Diet, you eat by the numbers. Every meal requires 40% carbohydrates, 30% protein and 30% fat. This makes this diet less carbohydrate restrictive than many other low carb diets.
There's also no induction phase on this diet. You eat exactly the same way for all weight loss phases. When you move on to maintenance, you add in additional fat to keep you from losing more weight.
4. The Carbohydrate Addict's Diet
The premise of the Carbohydrate Addict's Diet is that carbohydrate addicts produce too much insulin. This excess insulin makes us hungry and causes us to store fat. This diet reduces the amount of carbohydrates and the types that are eaten in order to reduce the production of insulin.
Sugar Busters is another popular low carb diet, but it works a bit differently. On the Sugar Busters Diet, you primarily aim to eliminate sugar from your diet. Carbs are not counted, but you will seriously reduce the amount of simple carbs in your diet. You'll eat low glycemic fruits, high fiber vegetables and some whole grains.
There are a lot of benefits to low carbohydrate diets, as long as it is not taken to the extreme. Eliminating the bad carbohydrates from our diets, like sugar and white flour products, can go a long way to keeping our insulin levels stable and encouraging fat loss.
However, these principles should be combined with eating enough good carbohydrates, like whole grains, vegetables and low sugar fruits, to ensure that your diet is a truly balanced one.